Back To Our Services
Everyone in California has a ventilation system; it is a godsend but like many modern appliances it needs regular maintenance and occasional repair. There are few extremes in the climate of San Rafael in Greater San Francisco but an extra few degrees in the winter and a few less in the summer are welcome.
Highly capable in providing quality services for all types of air ducts.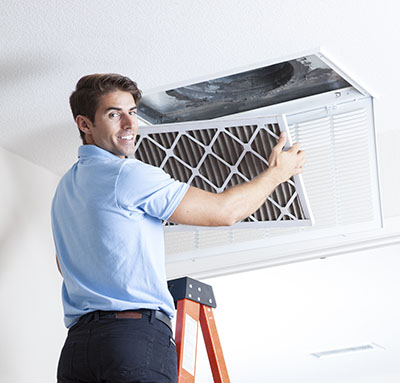 Dust is the problem with ventilation systems because it gets into the air ducts even if everything is air tight, joints and seals secure and no damage to the ducting.
Rigid metal ducting is rarely damaged but the flexible type can tear and if that tear is left it can lead to many things getting inside the ducting; mice and birds have been known to get in in extreme cases.
There is no hiding from dust and it needs to be cleaned on a daily basis in the home or business. The difference with the dust in air ducts is that it is unseen. It can build up at a rate of three pounds a month in a large home, and that figure will increase if there is something wrong with the ducting itself. At Air Duct Cleaning San Rafael we can solve any of the problems relating to the air ducts whether it is in a home or the largest of buildings. The only difference is the matter of scale.
We have built up a reputation for a quick response to any calls. We will make a thorough check of the system and make any adjustments that are needed. If everything is alright, the dust and grime that has accumulated in the air ducts can be removed by using a vacuum with the final job being brushing clean any dirt from the vent grills.
A clean system does two things; the immediate thing that will be noticeable is the good indoor air quality. There is no need for air fresheners and aerosols. This is quality air from an efficient system which now that it is clean will use far less energy to produce the same effect so there is an energy saving on your next bill.
Business which has a responsibility to its staff and visitors, places which depend on public support for their trade should really include air duct cleaning as a matter of course in their annual budgets. The provision of clean air is a responsibility; the no smoking legislation in California has made quite an impact but it needs to be supported by cleaning the air ducts in the ventilation.
We can give advice about how quickly the dust builds up and how regularly we think it needs to be removed. Certainly we think that if any work is planned that will generate extra dust such as decoration, renovation or extension work, air ducts should be part of the project.
Similarly anyone buying a new property should call an air duct company to come to check everything before they move in. That includes the exterior of the air ducts and the internal cleaning.
We are a service company that prides itself on the promptness of our response. New enquiries are welcome; we hope that a new caller will ultimately join our list of clients who bear testimony to the quality of our service. We are ready for the test and await your telephone call.
Back To Our Services